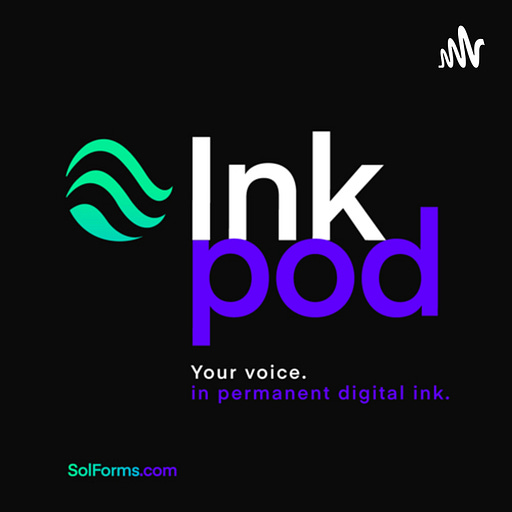 Apr 15, 2022 • 5M
Restoring Balance to the Force 🙏
My first shot at a Namaste / Fuck-off strike ☮️🖕
Raise your voice on the Ink Pod with MJL! It's time to get our voices in permanent digital ink that can't be censored. We'll be discussing Sovereignty, Cryptocurrency, Web 3 — and of course — NFTs. The digital art revolution is happening now, and we need to talk about it.
Good rising Sol Anml's! 🌞
Are you enjoying the idea of free speech blowing abundantly in our sails of FREEDOM?
Whether the Censorship Cabal at Twitter wants to unshackle their users or not, remains to be seen. I'd like to see all tweeters set free, personally. And it looks likely, as Elon certainly appears to have not only the upper hand, but the entire moral high-ground.
Imagine a private company in the United States providing a social utility that amplifies FREEDOM — The very principle this country was founded on. 🤯👌
Can you imagine that?? WOW!
How Patriotic and American would that be? ?
You'd have to be absolutely Ape-shit for the SAMO© Orwellian Censorship Thought-Police Regime to turn down the deal Elon has put on the table.
It seems likely to me Elon certainly will "Unlock it's potential." ⚡️🙏🔥💫
LOL 😂 at everyone threatening to leave the platform if free speech is allowed 😂! These are the people who are so weak, they will have to leave the space if other views that disagree with their own are expressed.
My friends, we are about to invert culture at lightning speed ⚡️⚡️⚡️.
Please don't be a ridiculous buffoon clamoring for the cancellation of others. How do you even arrive at the idea that providing FREE SPPECH is a tyrannical motion??? Wild. 👇
To bring some perspective to the most important conversation about FREE SPEECH that has ever existed, I thought I would provide my best 1st shot take at a really BALANCED offering to the conversation this morning. You're all invited to engage with it on Twitter if you like : )
Does the energy feel balanced?
On another note, the feeling of finally receiving some recognition for my work is a wonderful feeling I am deeply, deeply grateful for. A LOT of that gratitude is flowing towards @SpeculationHill, who has been supremely helpful and intelligent in creating a tokenomics plan for the Anml Style DAO AND Algo-Nova, the current Anml MVP NFT collector! ⚡️🙏❤️. Enormous appreciation to all Algo Degens who have collected Anml Style NFTs since the launch the first week of 2022 as part of the the $Degen Forever Series! 🙏🙏💫
Algo-Nova's purchase of the Original SAMO© Celebrating Equality painting for 5564 Algo is the new highest sale on the premium Dartroom NFT platform! ⚡️🙏 (Cheers to Elizabeth Kim for her sale 5000 Algo sale of Sinking Dreams. 🥂)
Anml Whitepaper!
And finally, I thought I would share this video I made this morning while walking my adorable little Elle ❤️. Taylor and I are looking to get more great minds on this whitepaper…. The ideas stacking in here are getting pretty exciting … 🤔 game-changing … and we're gonna need all the great help in the world 🌎 !
☮️⚡️❤️ - MJL